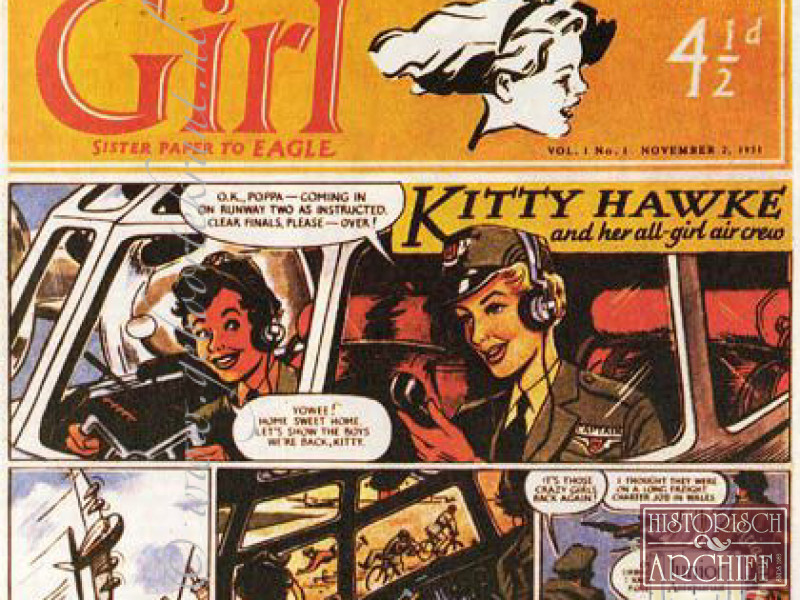 Girl (UK comics)
Girl was a weekly comic magazine for girls published from 1951 to 1964.
Land van herkomst:

Verenigd Koninkrijk

Beschikbare periode:

1952 - 1963
It was launched by Hulton Press on 2 November 1951 as a sister paper to the Eagle, and lasted through Hultons' acquisition by Odhams Press in 1959 and Odhams' merger into IPC in 1963. Its final issue was dated 3 October 1964, after which it was merged into Princess. Another comic of the same name was published by IPC from 1981 to 1990, during which time Dreamer and Tammy were merged into it.
Een greep uit één van onze archieven van Girl (UK comics):
Deze lijst is slechts één van onze archieven, zoek bovenaan deze pagina op uw gewenste datum om alle beschikbare kranten te bekijken. Alle getoonde kranten zijn originele archiefstukken, u krijgt dus niet enkel de historische voorpagina van Algemeen Dagblad maar de complete échte krant zoals die vroeger op de deurmat viel.